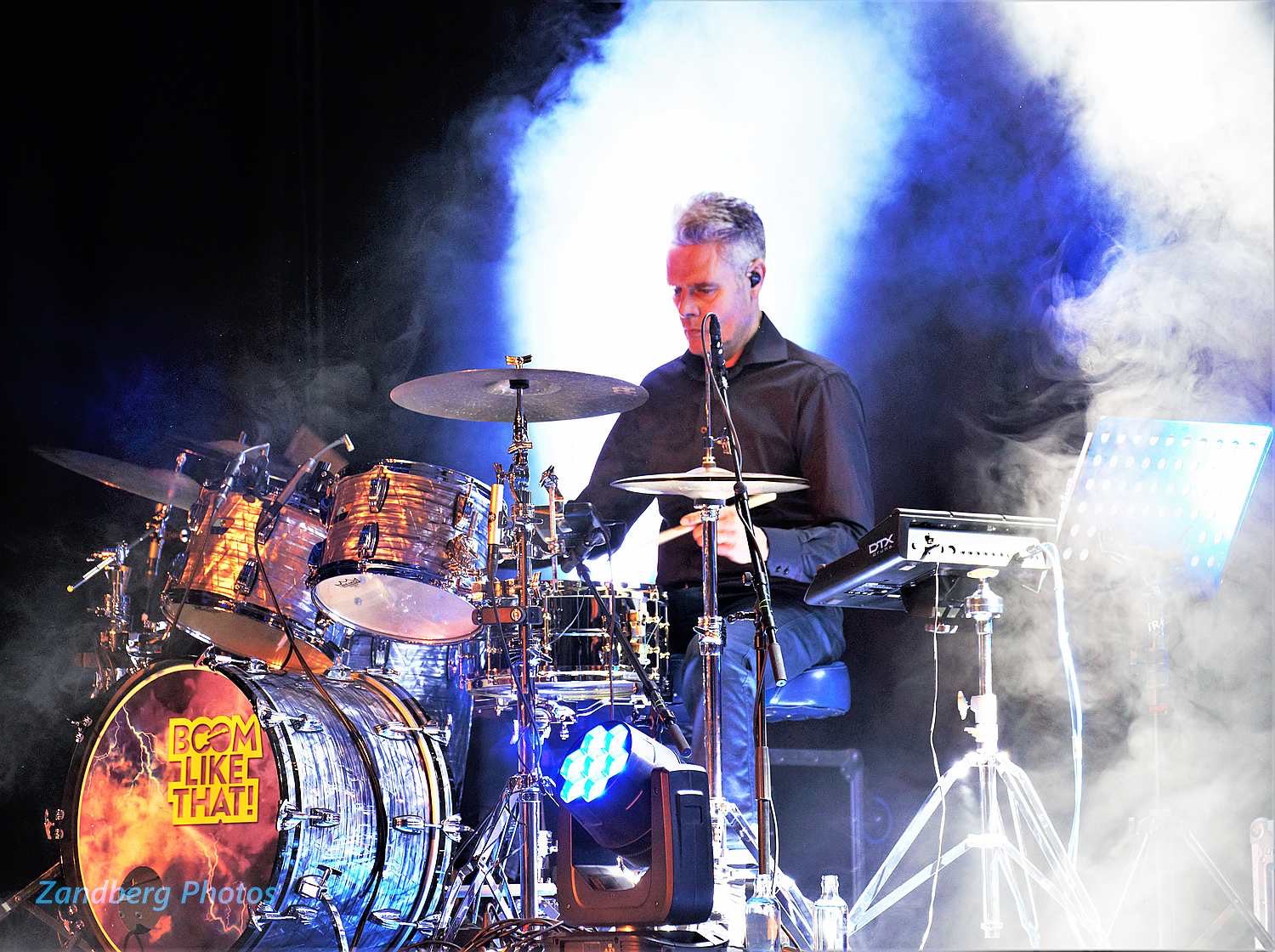 Fans of Dire Straits and Mark Knopfler will enjoy the beautiful music of this band. Who does not know the world famous songs? "Sultans of Swing", "Brothers in Arms", "Telegraph Road", "Money for Nothing" and much more! During a two and a half hour show BOOM, like that! takes its audience from the very beginning of Dire Straits to the more recent hits by Mark Knopfler.
Dire Straits (1977-1995) was a British rock band characterized by the unmistakable guitar playing and 'narrative' voice of Mark Knopfler. In 1995, Mark Knopfler left the band to focus on his solo career. Nowadays Dire Straits seems to be a little bit forgotten by the general public. That is a pity because the music of Dire Straits and Mark Knopfler remains great music to listen to. Luckily BOOM, like that! will change that mind set! The band was founded in January 2014 and has become the best and most successful Dire Straits band in the Netherlands and a very popular band at festivals and theaters. With high-level quality and accuracy the beautiful songs from Knopfler brought back to life again. The band that contains of eight experienced musicians, is unique in the Netherlands and perhaps even well in Europe! The distinctive sound of Dire Straits, the typical sound of Knopfler, all complete with the characteristic details, authentic instruments, sound effects, saxophone and percussion… BOOM, like that!
Band:
Edgar Janssen – lead vocals, lead guitar;
Rob van Kreij – guitar, bouzouki;
Robert van Vonderen – keys, backing vocals;
Hans van Els – drums;
Frank van Kreij – bass guitar;
Pepijn Mol – sax, percussion;
Joanne Belgrave – backing vocals;
Ilse Lucassen – backing vocals, flute.
Understudy's
Kitty Lanters – backing vocals;
Mieke Hermsen – backing vocals;
Marc Lucassen – sax;
Stijn Vullings – drums.
Crew
Eefke Janssen – tour manager;
Maarten Berkers – roady;
Bram de Koning – roady, guitar technician.
Soundwave Audio
Jos Peeters – managing director
Paul Rongen – front of house sound engineer;
Thijs Peeters – lights;
Joep Hofman – crew.
Media:
Angelique van Kreij-Lemmens – Photography;
Leon Hodiamont – Photography.
Beryl
Brothers In Arms
Calling Elvis
Darling Pretty
Down to the Waterline
Expresso Love
Going Home (Theme from Local Hero)
Heavy Fuel
Industrial Disease
It Never Rains
Lady Writer
Love over Gold
Money for Nothing
Once Upon a Time in the West
One World
On Every Street
Private Dancer (featuring Joanne Belgrave)
Private Investigations
Romeo and Juliet
Sailing to Philadelphia (featuring Pepijn Mol)
Setting Me Up
So Far Away
Solid Rock
Speedway at Nazareth
Sultans of Swing
Telegraph Road
The Bug
Tunnel of Love
Twisting by the Pool
Two Young Lovers
Walk of Life
Water of Love
Wherever I go (featuring Ilse Lucassen)
What It Is
Why Aye Man
Why Worry (featuring Ilse Lucassen)
Your Latest Trick